25 FRUGALISTA GIFT IDEAS: ROMANCING THE PAST–DECOR
Frugalista Gifts for Lovers of Vintage
Sometimes vintage gifts are made of reclaimed materials from the past.  Some vintage lovers probably prefer actual antiques—whether that's 1950 or 1850. But, there are lots of retro–reproductions of vintage–items for those who romance the past, but not the history or the slight wear.
Check out these ideas for the recipients on your list with a hankering for the past.   Then, check back later for more vintage gift choices in different categories.
This time: décor.
These ideas not only make great gifts for adding décor to someone's home, but can also make excellent host(ess) or bar gifts. Or, gifts for those who love to look stylish.
FRUGALISTA VINTAGE GIFT IDEAS FOR HOME DÉCOR
The Vintage Plane Book Boxes will please both antique airplane and book enthusiasts. "The History of Flight" emblazons the spine of the three partially canvas boxes.
$48 (Codes for additional 15% off sale price often advertised)  bellacor.com/
$40  (Codes for additional 15% off sale price often advertised)  bellacor.com/
Your recipient can artfully group these six Antique Mercury Glass Bud Vases. Or, spread them throughout a room. The  vases' simplicity works well with many decors. Designed in antique etched silver.  In heights from 4 to 5".
These laser cut Victoria Cutout Frames offer a unique venue for their prized photographs.  If your recipient loves charming and quaint decor, they'll love these pink hued frames.
$19  $15 theinglenookdecor.com/
Get these Becker Antique Key Holders from Haute Look.  It's a membership site, but costs nothing to join. 1 small and 2 large wood and iron holders might look great in their foyer or kitchen. Note this is a final, non-refundable sale.
$55  $27  hautelook.com/
This lovely antique Biscuit Jar (Cookie Jar to U.S. buyers) makes a conversational addition to your recipient's counter or table. The pink rose motif on white porcelain is slightly worn. But, this elegant piece listed as over 100 years old! The French Garden House sells other items that might please your recipient as well, like the Fenton English Floral Tea Cup, the Rose Tea Trivet, Rose Porcelain Teapots, Stouffer Dessert Plates, and more.
You can't get much more retro than the Sunburst Wall Clock. Retro Planet has a varied selection to choose from in prices from $39 to $87  Like this Wooden Starburst Clock based on a 1964 design. This one might ignite some reminiscing.
$50 retroplanet.com/ 
Does your recipient have an eclectic or retro den going on? The Ohio Wholesale Vintage Bath Wall Art might be just the thing.
These Vintage Corkscrew Coasters will make a great petite or bundle gift. Like with stoppers below. Could also be a conversation starter. Will look great on their bar!
 $10  worldmarket.com
The Vintage Corkscrew Stoppers make interesting toppers for your recipient's wine.  Plus, they're classier than a plain old cork. Made of metal and wood.
$18 worldmarket.com/
You can also give a gift of an actual vintage corkscrew. The English Stag Corkscrew makes me think of Ye Olde Tavern with its bulbous shank.
The Hinged Wondler Antique Corkscrew looks like a torture contraption. That is probably what makes it effective!  A fined aged tool to go with their fine, aged wine. This style dates back to Victorian Europe. Comes in a wood box.
$36 $26 winestuff.com/
FRUGALISTA VINTAGE GIFT IDEAS FOR SELF DÉCOR
Let's Hear it For The Boys
.
For the guys: a vintage 800 Silver Tie Bar with Soviet era Russian hallmarks on the back. Weighs 5.8 grams. 875/1000 pure silver.
$35 affordablevintagejewelry.com
Signet rings are back in vogue. If he wears rings and has 11 ¼ sized fingers, check out this Antique Victorian Fancy Signet Ring. Has a gold overlay.
$45 affordablevintagejewelry.com
The Nemesis Vintage Charcoal Leather Band Watch will give him both a distinctive and retro look. The black face nicely sets off the silver tone numerals and hands. Charcoal grey leather band features stitched "X's". Stainless steel case.  Water resistant.
$50 overstock.com
How retro is the Cricket V-Neck Vest? Classic. This tailored, pure Supima cotton knit, with cable pattern, might also evoke thoughts of Downton Abbey or Upstairs, Downstairs. Imagine him hitting a few shuttlecocks.  At any rate, the right guy will carry it off with the style and grace it inspires.
$118 $59 brooksbrothers.com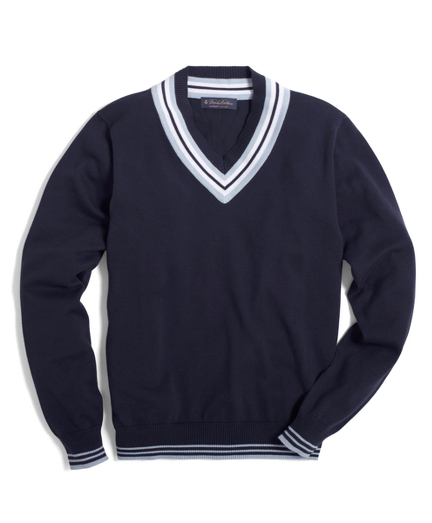 Or, perhaps the Supima Cricket V-Neck Sweater in a classic, long-sleeved style.
$128 $64 brooksbrothers.com
Just as the Ralph Lauren Style Guide did earlier this year (here), Brooks Brothers has declared the cricket sweater/vest a fashion essential for men.  Read their reasons here http://blog.brooksbrothers.com/the-look/layer-it-on/
The Precimax Men's Vintage Automatic Stainless Steel Watch might be a duo or group gift, but this price is the least expensive I found for this watch (Amazon and Newegg sells it for $156). And, that's 83% off list price.
 Driving in Olde Style
Herringbone Driving Cap –  With the heavy wool Herringbone Driving Cap, he can cover his head against the northeasters. And do it in style. 100% wool. From Rugby by Ralph Lauren.
$49.50 | $35  www.rugby.com
GIRLS JUST WANNA HAVE FUN (AND DISPLAY THEIR UNIQUE RETRO STYLE)
Which Mrs. Draper?
It's easy to imagine either Mrs. Draper wearing the Pearl and Gemstone Detail Necklace. Three stands of pearls cinched by two gemstone clusters. Falls below the breasts.
$ $50.00 $35.00 http://www.unique-vintage.com
 PRETTY, SHINY THINGS
The Red Rhinestone and Fleur de Lis Pendant will thrill a fan of Downton Abbey. Six flower shapes surround a large red rhinestone to create the large flower. This beauty hangs from a 18" gold tone chain. From Oodles of Bling via Etsy. They offer a vast selection of vintage jewelry from which to choose if your recipient's taste runs in a different direction than pendants.
$25 http://www.etsy.com/listing/93162609/vintage-necklace-vintage-red-coro
Speaking of Downton, this Silver Chrome Vanity Set would be right at home on any of those ladies' dresser.           
The comb, brush and mirror can be purely decorative or used in their nightly hair beauty routine.
$36 www.amazon.com/
A woman with distinctive style on your list might love this Vintage Mexican Sterling Silver Ring.  That is if she's a size 6. This also isn't a vintage reproduction, but the real deal. It features a red/orange gold stone in a floral setting. And, if rings aren't her thing or she isn't a size 6, check out their varied and abundant vintage jewelry collection for other ideas.
$35 affordablevintagejewelry.com
This stunning purple Rhinestone Bracelet becomes an exquisite accessory during the entire holiday season. Or, simply to add great bling to a casual outfit.  Rhinestones surround purple and lavender glass stones. Would she love it for the holiday parties? From Oodles of Bling via Etsy
$37 http://www.etsy.com/listing/89515330/vintage-bracelet-vintage-purple-bracelet
The Rhinestone Bracelet above would look stunning with the periwinkle Huron to Something Dress. Its wrap-style flatters most figures. The pique fabric is very retro. Navy accents at the collar and the removable sash waist helps this simple dress become an eye-catcher.  Fully lined and machine washable. Free shipping on orders of $50 or more. Mod Cloth has lots of vintage dress styles.
$75 $52 modcloth.com
Let me know what you think. Most of the retailers above offer many more selections of vintage decor (for home and body).  Next time, more vintage, different category.  Any category that you think would be popular?
Happy Frugalista Shopping!
© DLewis2012